Synths
Last Updated:
SMS (Synthetic Music Systems) MARS & BOB

Synthetic Music Systems

SMS MARS above / SMS BOB Below

SMS MARS + BOB

SMS (Synthetic Music Systems) is a very small British (UK) company.
The MARS was introduced back in around 2001, along with the BOB and Planet 7.
These are hand built by Andy Pledger who also designed the synth.
MARS stands for "Modular Analogue Rack Synthesizer''
BOB stands for "Break Out Box"
Basically the MARS is a 1u monophonic synth, with 16 knobs on the front and 21 patchpoints on the back - which are usually joined by short (included) patchcords to the BOB, which brings them to the front but also includes additional NOISE circuit & patchpoints. (Some versions of the BOB has I think Ring Mod instead of the NOISE.)

As usual, not to be confused with Vermona M.A.R.S. & M.A.R.S. Control which are totally different company & products.

SMS MARS + BOB and Me
The SMS MARS is a rare breed. I think only 30 were made.
NICE BLUE LOOKING, me think!
Originally priced at around £225 & £95 for the BOB, it's quite affordable.
Problem is, it's very rare and not easy to find. the SMS website was long gone.
There was an info page at Midiwall and I think the 1st units were reviewed by Sound on Sound (but I don't seem to be able to find the article on their web).
It's actually quite funny. I actual got round to know Andy, the maker of the synth.
BUT I didn't buy the MARS from him! I got it from a store in Europe.
Since Andy knows all the 30 people who he has made and sold the MARS to, he was wondering which one has sold off their rare instrument!
I know that Martin J. Newcomb

of the famous

Museum of Synth Technology

has one of these (cos I spotted the MARS in one of his eBay items photos underneath the stuff he was selling!)
Andy also designed the Analogue System SPAWN, which is very similar to the SMS MARS/BOB.
(I got to know Andy because he sold me a SPAWN).
I got the SMS MARS + BOB around November/December 2003.
Has been using it with my spare Kenton Pro2 Midi-CV Converter.

The MARS has been used in a few tracks I did in 2004.

FRONT PANEL
MARS


Left: VCLFO & the VCO


Mid: VCF


Right: VCA & ENV
BOB


Left: Patchpoints for VCLFO


Mid: Patchpoints for VCO/VCF/VCA


Right: Patchpoints for ENV and NOISE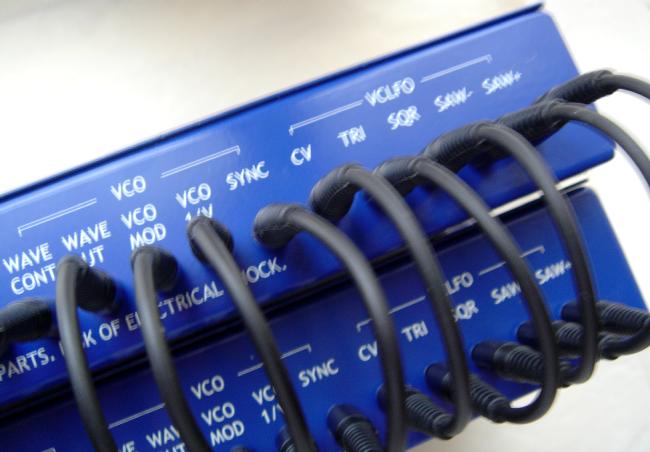 REAR PANEL
MARS


Power Switch, IEC Mains Socket & Fuse, AC 230V/110V Selector,
plus a DC +12V/0V/-12V connector for powering the BOB.


Patchpoints


Patchpoints
BOB


The BOB has just the DC In on the left.


Then it's all the same patchpoints as the rear of the MARS.

MIDI-fying BOB !!!
What? Modding such a rare piece of equipment?? Hahaha, no one is as insane as me.
If Andy sees this, he might be furious! (Sorry, mate, I couldn't resist).
-> See MIDI BOB page !!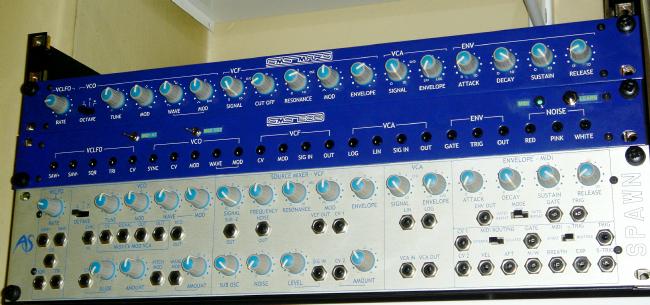 MARS & (Midi) BOB & their Cousin SPAWN

Other Links on the SMS MARS
| | |
| --- | --- |
| | Midiwall - Info page on the SMS MARS, BOB & Planet 7 |

C Y 's files on the SMS MARS

SMS MARS Operators Manual
16 Page Scanned PDF (866kb)

| | |
| --- | --- |
| | SMS MARS Blank Patch Sheets |