The FatMan 1u Rackmount

To make life easier, the 1u rackmount case i've used is actually an ABS Plastic 19" rackmount case. Good thing is it is easier to drill and handle, since there are a vast amount of holes needed for the pots. Have to use Omeg type square plastic pots - cheaper alternative to small ALPS pots - can fit 2 in 1u height if turned sideways.
Construction
The 1st thing to do was to solder some 40 jump wires(!) - i thought what the heck - a PCB that needs 40 more jumper wires ?!
They say it takes roughly 4 hours to build if you're fast - well - it took me 4 hours but that's just to solder all the components onto the PCB. Mounting and wiring the pots takes another 4 hours!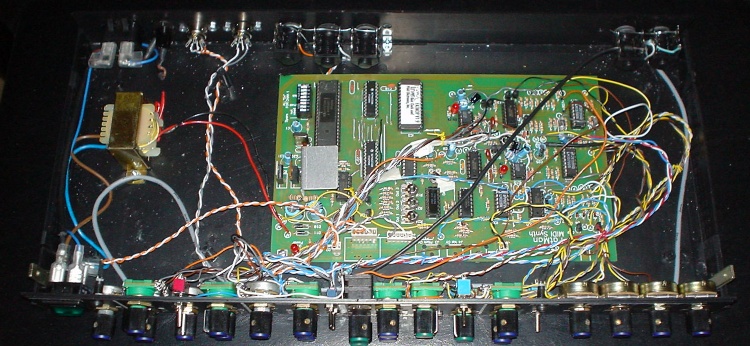 Wiring did take up most of the time.... The Midi LED and Gate LED are routed to the front. Added a simple small 12V AC adaptor and a mains Power switch...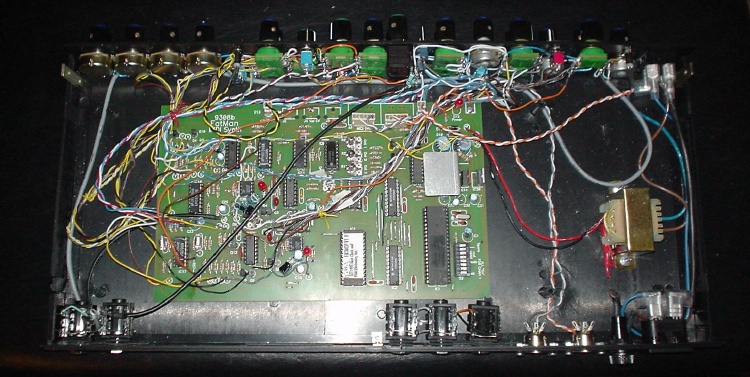 THE REAR PANEL

The Audio Out, Midi In/Thru, CV/Gate/Velocity are now all routed to the rear panel.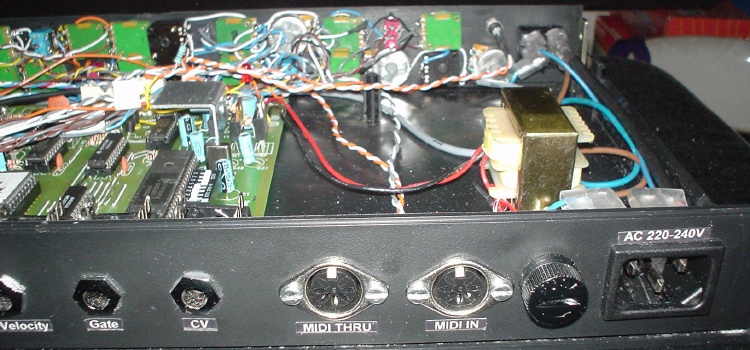 And of course, no flying lead of adaptor. IEC Mains Socket is standard for me!
Note:
To make the IEC Mains Inlet hole, I use a screwing hand tool, which is an M10 Radius Hand Hole Cutter, 28x21mm (RS Cat.#543-614 or or 541-501), with matching 10A Snap In PCB Mount IEC 320 Plug Socket (311-8031 or 488-191).

MODS
I've looked at many of the mods available for the FatMan. There are a few that I'd like to do and I preplanned the pots and space needed. Initially i was to add a sub-osc and also preamp for the audio input to filter. However i ran into a little trouble and after sorting that out and got the FatMan running i decided not to add the sub-osc. The way i am adding the Audio In is hot enough for line level, so i skipped the preamp/mixer mod.
The 1st thing i did was the recommended Lee Diode mod - the trouble is, i replaced the resistors but forgot the additional capacitors - and it turned out the tuning and octaves were all out of place. After some more check and adding the required caps, i finally got it running and tuned.
Also, changing the 555 IC's to 7555's is a must - it improves stability a lot!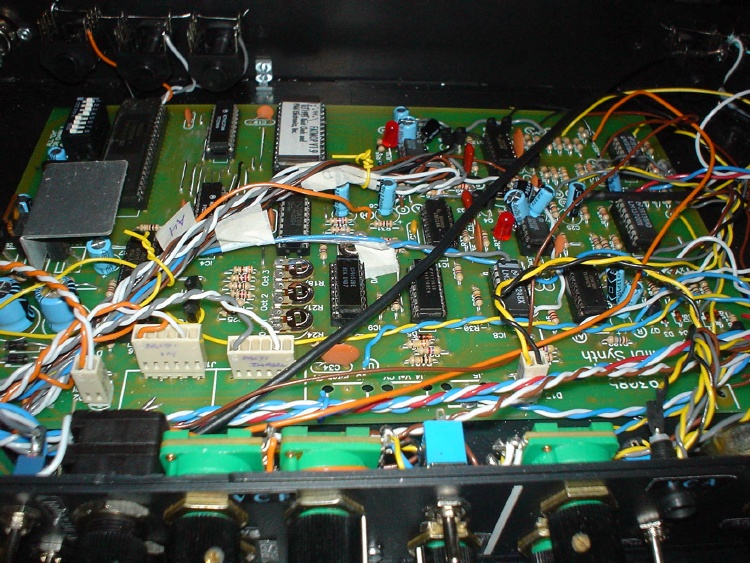 Mods I added are:

| | |
| --- | --- |
| - VCO Pitch Extend (Switch) | Simple SPDT switch that bypass the resistor |
| - VCO Fine Tune | Additional Pot in series with the Pitch Offset |
| - New Hard Sync (Switch) | VCO1 (Pin4) reset by VCO2 (Pin3) - I cut the PCB trace at VCO1 Pin4 to add the switch. |
| - VCF LP/BP Select (Switch) | Extra wire out of the Filter IC to a switch |
| - Extended VCF Freq (Switch) | Switch to short resistor |
| - Max Resonance (Switch) | Switch to short resistor |
| - Total Internal Level Pot | Instead of isolating the 2 VCOs, i kept the 1/2 Mix pot, but added a pot to control the total volume of the 2 VCOs |
| - External Audio In Level Pot | External Audio In socket routed to a pot |
They're very easy to do, and most of these are from Scott R. Gravenhorst's excellent Synthaholic's Fatman Site.
-> See also the FatMan MODs page.
THE 1u FRONT PANEL
It's very cramp...

On the left:
- Mains Power Switch, Midi LED, Main Volume
- VCO Pitch, Glide, Extend Switch, Fine Tune, Offset and 1/2 Mix
- A(S)R, A(S)R/AR Switch, Attack, Decay
- Hard Sync Switch, VCF LP/BP Switch
- Internal Level Pot, External Audio In Level Pot

Note:
To make the square-ish hole for these illuminating Power Switch, another one of these Hand Hole Cutter is needed. This one is the M10 rectangular hole cutter,22x19.6mm, RS Code: 600-161.
The Power Switch is one of those DPST green (or red) illuminated rocker switch, 10A/4A.
RS Codes are Green: 318-070, Red: 318-064

On the right:
- VCF Velocity, Pitch, Freq, Freq Extend Switch, Resonance Max Switch and Resonance Pot
- VCA ADSR, Velocity, Gate LED, Punch Switch and the A/D/S/R Pots.

Could've done the last A/D/S/R pots in 2 rows, but i didn't have a right valued pot - so i kept the original 4 pots...