PAiA FatMan 1u rackmount #2
Well... This 2nd FatMan came to me around the time I finished the 1st FatMan. It was up for grabs on eBay, fully assembled, complete with BLUE Front Panel, but noted "NOT WORKING PROPERLY".
Since it was offered at a quite cheap price, and I had just finished the 1st FatMan, I thought I'd grab it and fix it and do a 2nd FatMan Rack, maybe with additional Mods...

So it came to me like this...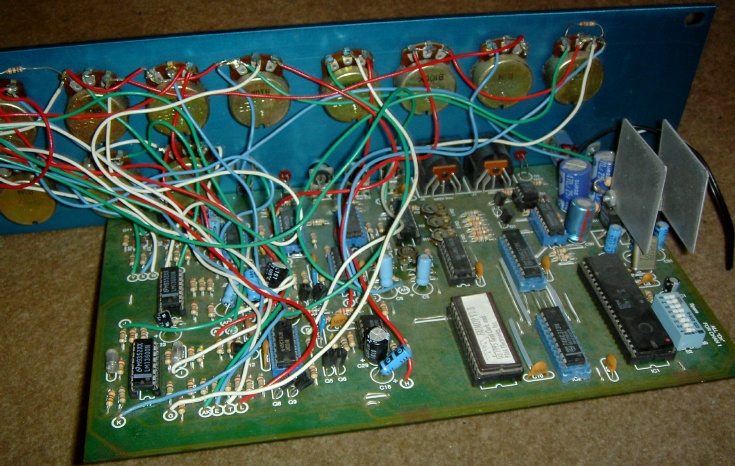 In fact it was kinda dusty and seemed old - although the Front Panel was kinda pretty new, no scratch or anything (but again dusty). The PCB was dusty/dirty, and it actually has an older v1.8 PROM.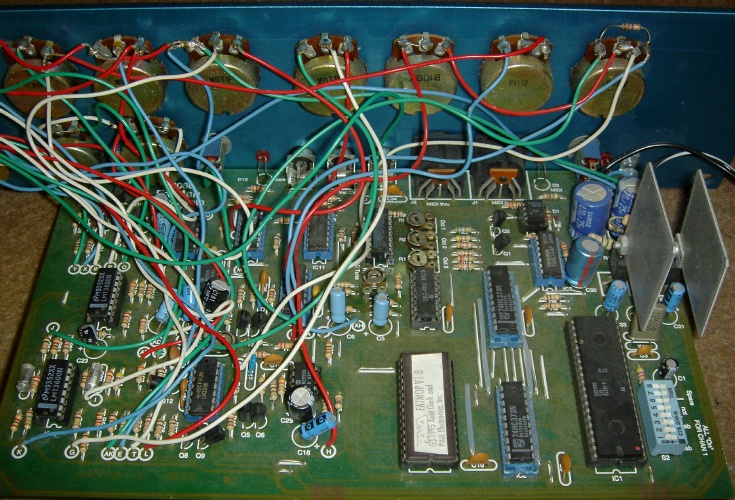 I didn't bother to really test it out, it powered up, made a sound, and i thought it was OK... so i cut off the hanging wall wart power adapter, and it sat on my shelf for a few months...
Finally got time to sort this 2nd FatMan out... Again it'll go into a 1u plastic ABS rackmount case. So knowing that i'd have to re-wire all the pots and so on, i decided to remove the front panel, cutting and removing all the original wires....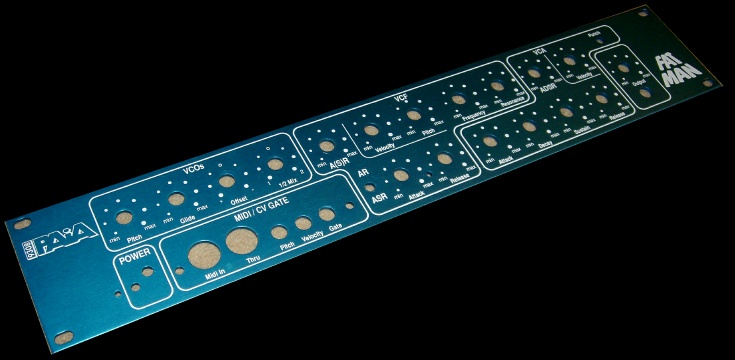 The BLUE Front Panel, as opposed to the BLACK one that came with the later FatMan that i ordered last year.
However, i realized there are some minor problems...
| | |
| --- | --- |
| | No wonder it wasn't fully working - the soldering on the PCB was real bad - i mean bad - I haven't seen any soldering worst than my own (!), and this PCB must be really badly done... Big blobs of solder everywhere, components not seated perfectly etc.... + some PCB tracks looked as if they've been cut or damaged. Checked these and they're ok tho. |
| | |
| --- | --- |
| | When i did the 1st FatMan rack, and when i wrote up these pages, I didn't put down any instructions for the mods I did, since the info's are readily available on other websites... |
| | BUT, when doing the 2nd FatMan, I found that I had to go thru all the websites and notes I put down, to summarized again and pick what mods I wanna add... |
| | |
| --- | --- |
| | This has v1.8 firmware PROM... it has some issues with MIDI Velocity.... |
In the end, halfway though doing this, I kinda gave up.
I have left some space for further mods if i want to add anything in the future, but since this 2nd FatMan wasn't constructed by myself, I kinda loose interest in making it better.
It's kinda working, but a bit dodgy, but still usable...
UPDATE: After changing the power transformer to a higher rating one, it seems to work fine.
Anyhow, in case I do a 3rd one, I'll put up all the stuff in clear instructions/directions on these pages.