Synths
Last Updated:
ARP Axxe Analogue Solutions Modular Expander

ARP Axxe (Orange) in Custom No Keyboard Expander
with Modular Sockets by Analogue Solutions!

A R P A X X E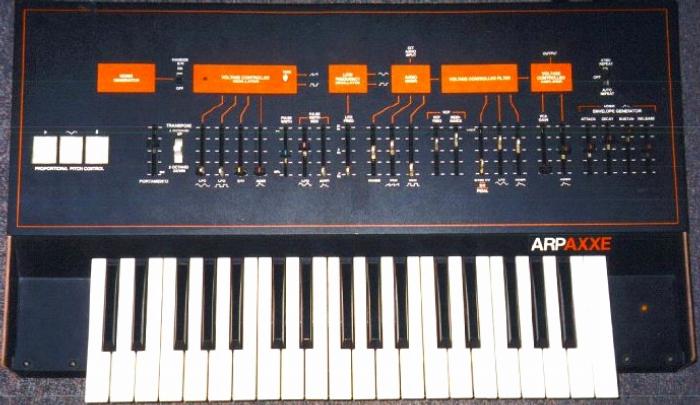 The ARP Axxe is kind of the smaller brother (monophonic version) of the famous ARP Odyssey (duophonic) or maybe a poor man's Odyssey? I dunno, heheh.
Like the Odyssey, there are a few variations of the Axxe. This one is generally known as the Arp Axxe Orange.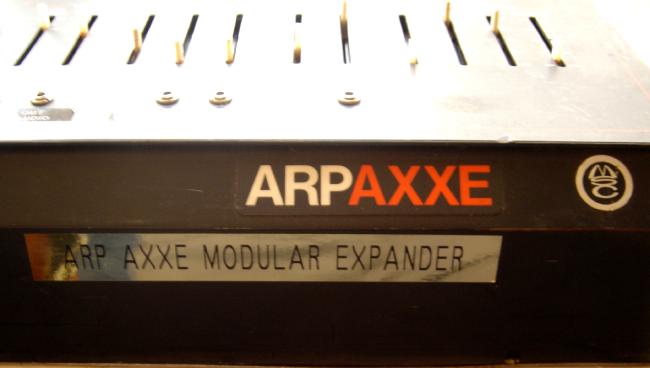 The Analogue Solutions ARP AXXE Modular Expander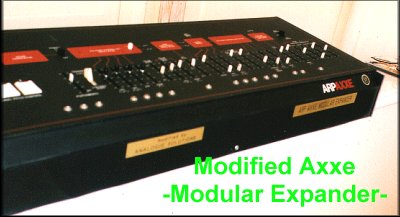 This (above image) has been on AS web for a long time. They offer this modular upgrade + remove keyboard service, but it costs a heck of a lot.
The modular sockets alone cost £56.40 (kit) or £116.33 (fitted).
Keyboard removal generally costs about £233.83 !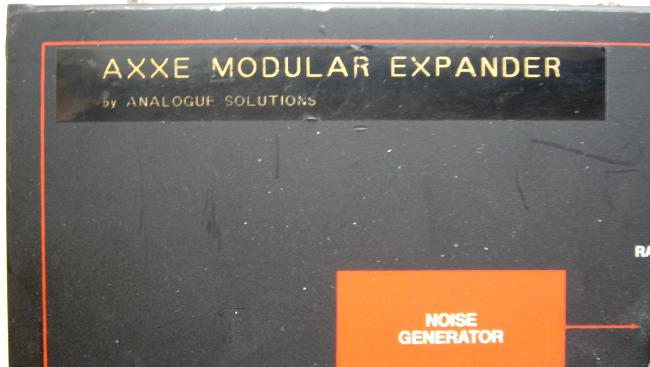 Thru out the years I have seen ONE of these cropped up on eBay.
But the one I got here, I actually got it from a 2nd hand store.
I'm not sure how many ARP Axxe were ''converted'' by A.S., but I suspect not many, so this is kinda rare.
Good thing is, I got it fairly cheap (in Autumn 2004) - about the price of a non converted Axxe keyboard. I suppose the price I paid was about the same as the cost for removing the keyboard.
Well, but there are some tiny drawbacks.
- ARP Axxe has all these sliders and it's a known issue that over the years they go very stiff. This expander also suffers from this issue.
- No slider caps...
- This particular Axxe seems to be pretty old, cosmetic conditions are so-so... even the modular upgrade labels are starting to fade.
Other than these minor issues, this is another kool beast...


FRONT PANEL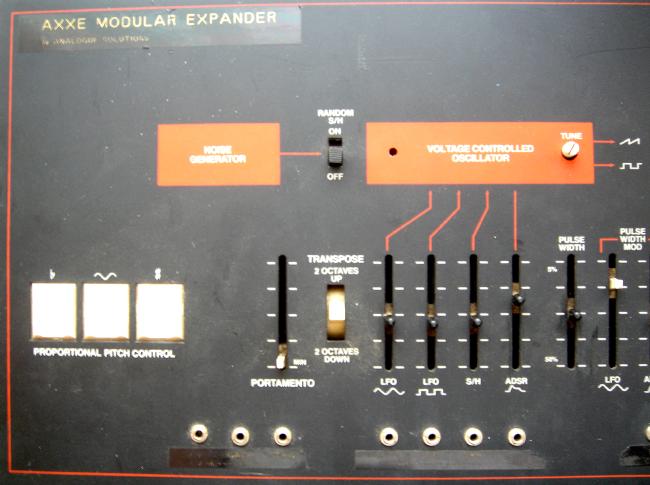 Top left you see the Analogue Solutions sticker!
The 3 white rubber buttons are the Proportional Pitch Controls (PPC), a bit like a pitch bend controller, but very weird (or unique)!
Then you see the usual controls for Keyboard, Noise Gen and VCO etc.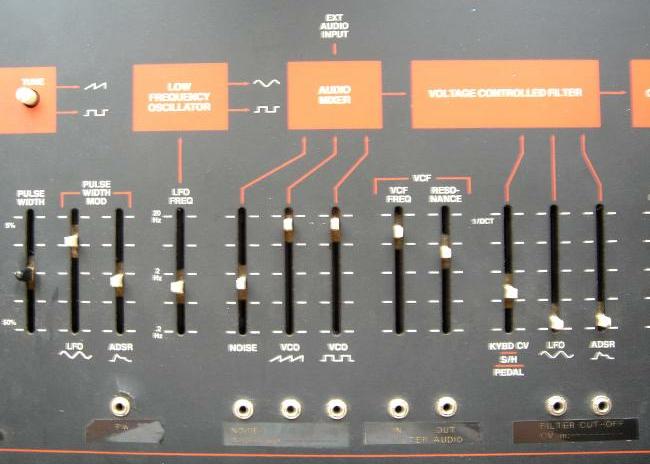 Middle section - PWM, LFO, Mixer
(there is External Audio Input at the back, but no slider),
then it's followed by the VCF controls...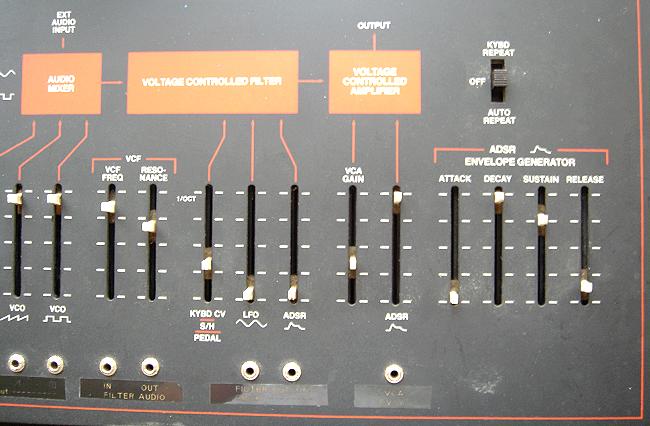 Straight forward - after the VCF comes the VCA and ENV (ADSR).

The Modular Sockets
Other than making the Axxe an Expander without the keyboard, the Analogue Solutions mod also adds these modular sockets. They're mounted below the sliders.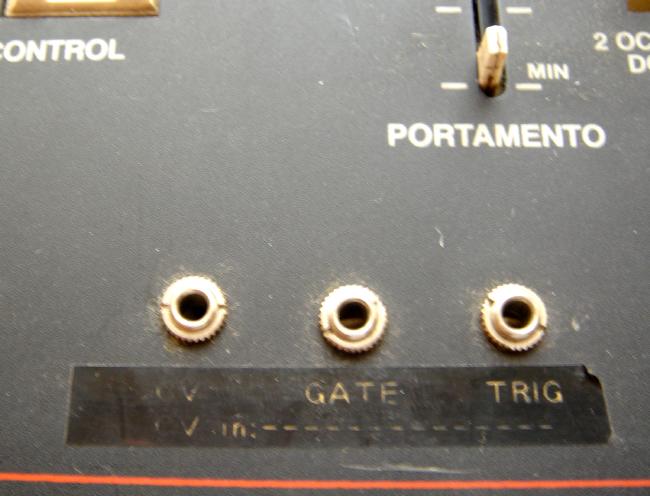 CV IN SOCKETS: CV / GATE / TRIG
Note: These are just parallel duplicates of those on the rear panel.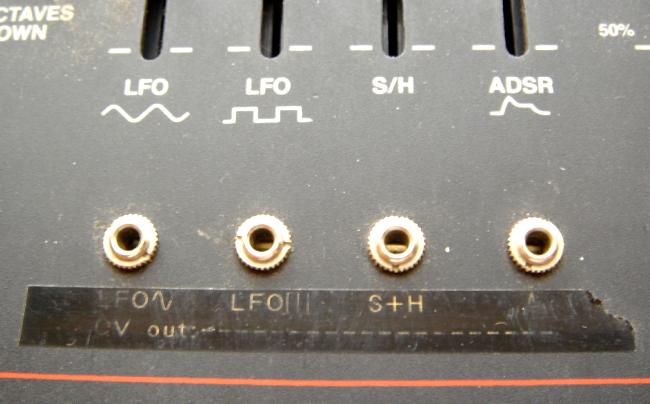 CV OUT SOCKETS:
LFO Sine / LFO Sqr / S+H / EG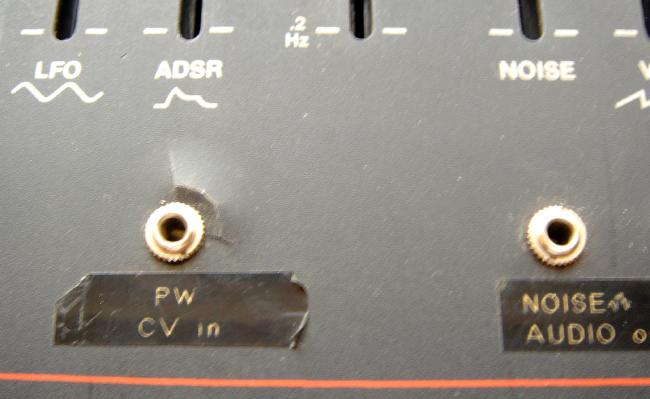 PW CV In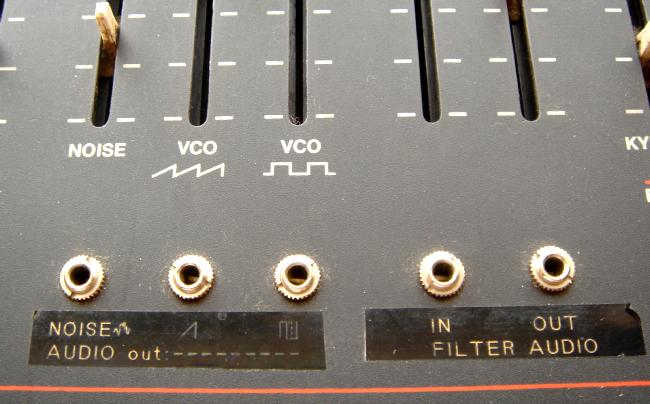 Audio Outs: NOISE / VCO SAW / VCO SQR
FILTER AUDIO: In / Out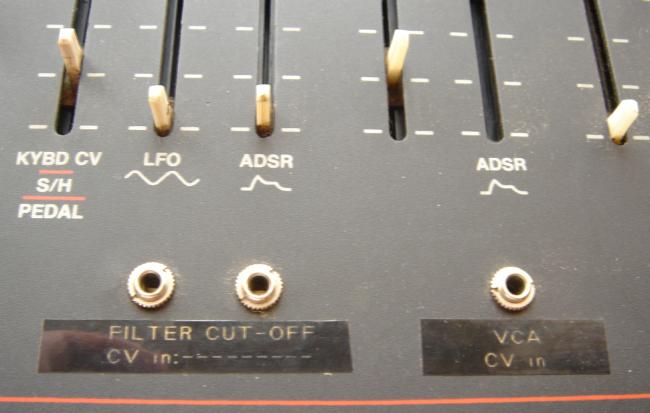 VCF & VCA CV In's

REAR PANEL

Comes with IEC Mains socket
and Power Rocker Switch!

Big ARP AXXE Logo
(with added AS ''expander'' sticker)!

Pedal, High/Low Outputs and also External Audio Input.
CV/Gate In/out sockets on the far right. (CV/Gate IN duplicated by the AS Modular sockets on front panel)

To Do's
| | |
| --- | --- |
| | Add Midi-to-CV |
| | |
| --- | --- |
| | NEW sliders or maybe even take it apart and rackmount it |
+ Write up more info, details and so on here.
At the moment, as there doesn't seem to be a lot of info on the AS Modular version of the Axxe around, but since I do have one, I'd like to put up at least some pics and info here first.
I have been wanting to dissect this Axxe but haven't got the time or basically just haven't gone round to it yet!
2005/07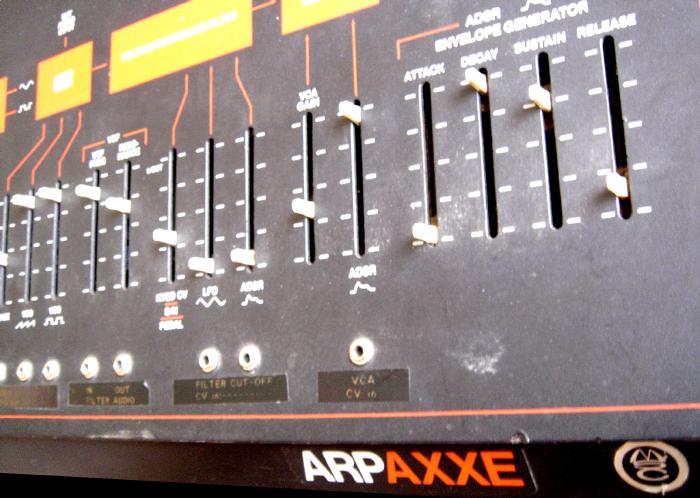 Other Links on the Arp AXXE
| | |
| --- | --- |
| | Bluesynths - Excellent site with detailed Arp Axxe review and images, also Patch Sheet & Service Manual |

C Y 's files on the ARP AXXE


Click to Enlarge

(From the service manual) Axxe Circuit Board Foiled side view
handy for checking those sliders values etc

CUBASE SX
DEVICE PANEL /
Virtual Patch Sheet

I've done a Midi Device Dummy Panel for the Axxe, which can be used as a virtual patch sheet to store any patches as snapshots in the Cubase SX.
Please see my Cubase Device Panel Page.